Basics Of Anal Fistula
What is a Fistula in ano?
A fistula in ano, in simplified terms, is a communication between the anal canal and the skin around the anus. The anal canal contains a number of glands which occasionally get clogged and infected, leading to the formation of an abscess. About half of these abscesses may develop into a fistula. Contact The best Fistula Doctor in Kolkata
CAUSES
The most common cause of anal fistula is anal abscesses secondary to an infection in the anal glands and the perianal region. Other conditions that can cause an anal fistula to include:
Crohn's disease
Radiation
Trauma
Sexually transmitted diseases
Tuberculosis
Diverticulitis
Cancer
SYMPTOMS
The signs and symptoms of an anal fistula include:
Foul-smelling drainage (pus) from an opening around the anus
Bleeding from the perianal region
Relief after pus drainage
Pain and swelling in the skin around the anus
Irritation of the skin around the anus
Pain during passage of stool
Fever, chills and a general feeling of fatigue
DIAGNOSIS
Complete physical examination , preferably by a specialist Surgeon/ Colorectal Surgeon.
Anoscopy/ proctoscopy- A procedure in which a special instrument is inserted inside the anal canal.
An MRI of the region to get a clear picture of the fistula including its sites of opening, branching, number and size of tracts etc.
EUA- Examination under anesthesia.
Colonoscopy – In certain cases, particularly when an underlying disease like Chron's or malignancy is suspected.
TREATMENT
Surgery is the ONLY definitive treatment for Fistula in Ano.
The surgery is performed by a colorectal surgeon since a high degree of skill and expertise is needed in the surgical management of this complicated disease.
Conventional Procedures –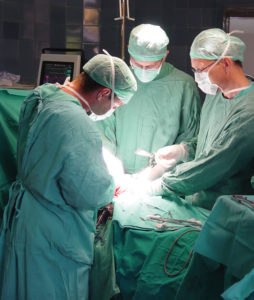 – Fistulotomy
– Fistulectomy
– Seton drainage
– Advancement Flaps
The biggest drawback of these procedures is the risk of Faecal INCONTINENCE since the procedure invariably leads to damage of the sphincter muscles, thereby leading to loss in control of stools.
Advanced Procedures –
– LIFT – Ligation of Intersphincteric Fistula Tract
– FILAC – Fistula tract Laser closure
FILAC or Laser surgery for Fistula is amongst the most advanced methods at present in the management of all fistula including Complex Fistula.
The patient is discharged on the same day of the procedure and the chances of fecal incontinence are almost non existent.
FOLLOW UP & RECURRENCE
Most fistulas respond well to surgery. After the surgery, your surgeon may recommend routine dressing as well as antibiotics and laxatives.
Fistula in ano, unfortunately, are known to recur after surgery and no single procedure guarantees a permanent resolution.
However, success rates depend on the nature of disease, tyoe of procedure as well as the skill of the operating surgeon.
With the newer techniques like LASER treatment and the latest advancement in the management protocols, the success rates have definitely improved as compared to the traditional procedures.
If you are looking for the best Piles doctor in Kolkata, then you are at the right place. Contact Dr. Azhar Alam.